GripStar™ 5-Seconds Garlic Peeler (2 PCS)
24 HOURS CLEARANCE SALE:
50% OFF + FREE SHIPPING
"So efficient, so quick and so useful!!! My garlic pieces now always retain their original shape and form. This is in stark contrast to when I used to crush the garlic with my knife. I can literally peel garlic like a machine now. Bring it on!" - Joe Davies
"Never thought I would comment about a garlic peeler ever in my life! But I cannot explain how this little soldier has changed my life. Peeling garlic has never been the same since I got it. And thank you EverydaySteal for your excellent service and the amazing product!" - Susie Hagens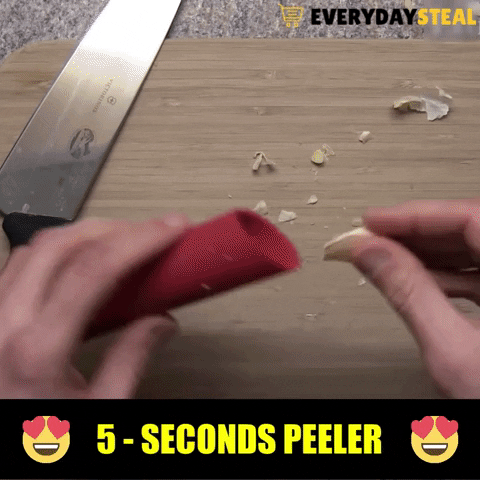 Garlic is an indispensable condiment in our daily lives. Hand-stripping garlic is time-consuming, laborious and messy. Using a knife to smash the garlic and then stripping it destroys the shape of garlic and makes it undesirable for certain dishes.
With the brand-new GripStar™ 5-SECONDS Garlic Peeler, you can now peel garlic in literally 5 seconds! It's easy, compact, efficient and PRESERVES the shape of garlic. Undamaged garlic always lasts longer. Also, it helps you keep your hands stay free from the smell of garlic.
EASIEST & QUICKEST GARLIC PEELER EVER - LITERALLY 5 SECONDS!
GARLIC COMES OUT UNDAMAGED AND IN ORIGINAL SHAPE. UNDAMAGED GARLIC LASTS LONGER!!
UNIQUE SHAPE KEEPS GARLIC CLOVES INSIDE WHILE PEELING
GARLIC CLOVES COME OUT PEELED, PEELS STAY INSIDE
HANDS STAY FREE FROM THE SMELL OF GARLIC
MADE FROM PREMIUM FOOD-GRADE SILICONE
SAFE TO WASH IN DISHWASHER
GET CUSTOMIZED COLOR OPTIONS
SHIPPING 
We ship to 180 countries and you will receive a tracking code for every order.
OUR GUARANTEE
If you don't have the best experience with our products, we will make it right for you so that you're completely satisfied. Just send an email to customercare@everydaysteal.com.
We offer 30 days money-back guarantee. No questions asked.
We use encrypted SSL certificates for 100% security.
50% OFF + FREE SHIPPING SALE ENDS TODAY